YOUR ADVANTAGES AS AN EXHIBITOR
Leipzig Book Fair is the place where authors and audiences meet, celebrate the diversity of literature and create a big stage for the novelties of the year. This is where the world of words becomes alive - and you can be there! Become a part of the great reading festival and present your publishing programme or range of services to professional visitors and book enthusiasts - up close and personal!
At Planning a trade fair stand we have compiled all the important information for your trade fair and event planning.
Great Reasons to Exhibit at the Trade Fair
Major Platform for Literature
With over 2,080 exhibitors from 40 countries (2023), Leipzig Book Fair is host to a broad and multi-faceted range of literature and media and thus inspired 274,000 visitors at the fairgrounds and throughout the city area at the last event. Exhibitors are divided into the following exhibition areas:
autoren@leipzig, Offers for Authors
The book industry is undergoing fundamental changes: The reading experience is becoming more multifaceted and digital. Podcasts, audio books and eBooks are gaining more and more fans. As a result, the demands on authors and publishers are also changing. The tailor-made conference programme autoren@leipzig provides orientation for both professions.
Kids, Young Adults & Education
With more than 500 events, the Children, Youth and Education theme world offers numerous adventures for young audiences: they get to know new literary heroes and enjoy rousing concerts. Numerous activities invite them to join in. In addition, young literature fans can meet the creators behind their favourite books and take a look behind the scenes of their creation.
Book Art & Graphics, Art Schools
Aesthetically appealing books and artistic graphics are high-quality cultural assets. At the Leipzig Book Fair you can marvel at them and purchase them: experience limited edition artists' books, graphics, hand press prints and artistic book projects.
Service Providers for the Book industry, Non-Book
Textbooks, Non-Ficition, Science
Digital World: Audio, Film & Media
Debates about the issues of the day are not only conducted in the printed book, you can also hear them, see them or even discuss them together. In the digital world of the Book Fair, you will experience the latest developments around eBook, audio offerings such as podcast and audio book as well as film and moving image - always on the pulse of time.
International
Writers have perhaps the keenest view of the present and the past, whether considering politics and society or looking at individual people with their thoughts and feelings. They whisk their readers away to unknown regions, evoke intimate feelings and create new contexts. Each year more than 400 international exhibitors attend Leipzig Book Fair to showcase the rich diversity and latest developments in the world of literature – often with some surprises in store.
Music
The Leipzig Book Fair continues the great musical tradition of the city of Leipzig. With its exhibition area on music in Exhibition Hall 4, it draws attention to innovations and creative developments in the industry.
Manga-Comic-Con
Manga-Comic-Con is part of Leipzig Book Fair and is the large sections that focuses on graphic novels, manga, anime, games and cosplay.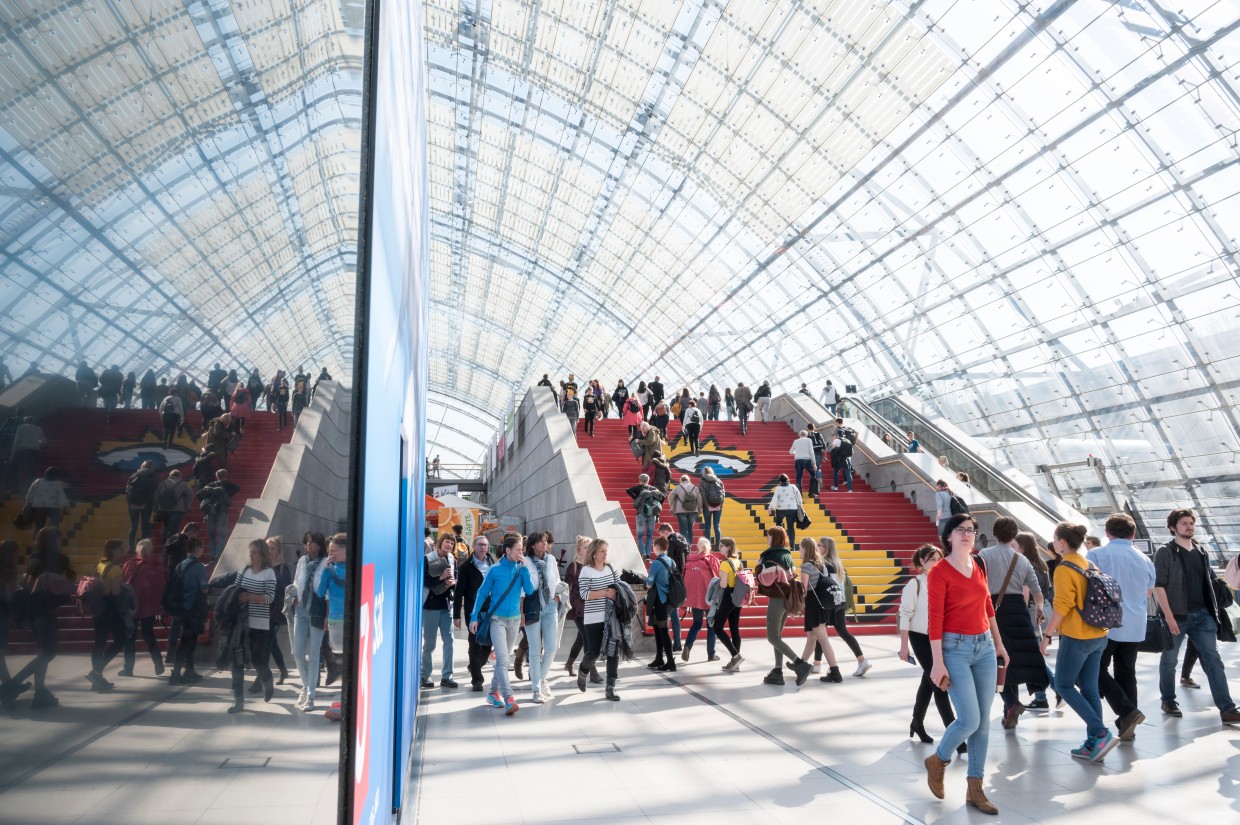 Why is Leipzig Book Fair Such a Popular Event?
The atmosphere at Leipzig Book Fair is unrivalled. It regularly draws around 274,000 book and media fans to Leipzig each year to experience the world of literature live, and get together to celebrate their enthusiasm. This is where they have the opportunity
to discover books and media in a very special way, and share this experience with their friends.
to discover new publications first hand.
to enjoy the wonderful world of literature in a relaxed setting with family and friends.
to find out about educational offers directly from you, the exhibitor.
to experience authors live at readings and book signings.
as well as to visit the Manga Comic-Con.
Leipzig liest – and Celebrates Literature
Europe's biggest reading festival also takes place within Leipzig Book Fair. With some 3,000 events, Leipzig liest offers a platform that brings authors, books and media closer to the public in a very unique way.